Transforming Your Holiday Home Garden
Monday, February 18th, 2019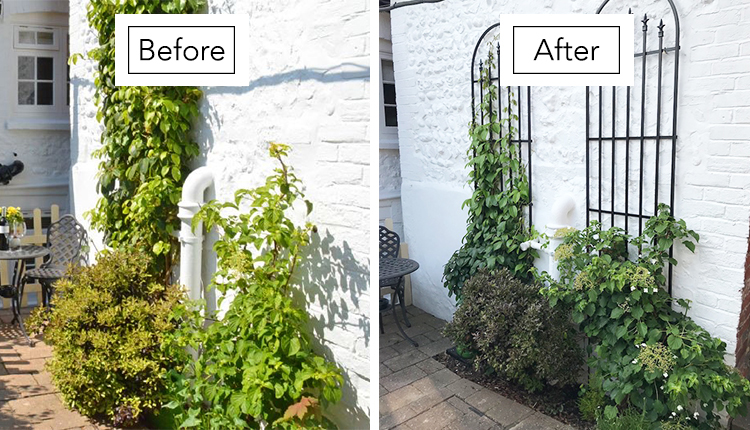 At the end of a busy day, there's something rather special about sitting outside and enjoying a cup of tea or perhaps a glass of wine. Whether you've had a day exploring whilst on holiday or you've been out and about whilst staying at your own holiday home, that time at the end of the day relaxing is precious.
Your Holiday Home
When you own a holiday home, one of the benefits is enjoying your own getaway when you stay there. You don't want to spend your time painting, gardening and generally maintaining your property.
We love talking to owners about how they spend their break at their holiday home, and it's clear they relish the thought of someone else looking after things for them!
Here at Happy Homes, we enjoy transforming holiday home interiors and exteriors, so owners and guests alike can relax during their stay.
Transforming The Planted Area
To begin with, we pulled away overgrown ivy from the wall. Ivy can be very damaging to brickwork, so we painstakingly removed the notoriously hard to remove feelers from the right-hand wall. We also removed a broken trellis from the wall as this detracted from the space.
The walls were then given a fresh lick of bright white masonry paint to maintain them. The climbers needed to be trained to grow upwards rather than outwards into the space. To help them, we bought beautiful wrought iron trellis panels from the Brick Kiln Garden Centre in Chichester. The climbers were then retrained to grow up the trellis and eventually across to fill the gaps.
The Finished Result
Our before and after photos reflect how our Happy Homes makeover transformed this small garden space. Please follow our Facebook page to see more makeovers and holiday trends and ideas. If your outdoor space needs some care and attention, please get in touch to find out how we could help you.
If you'd like to discuss how Christopher and the team could help you with your holiday property, please contact us on 07825 212834 or email hello@happyhomesmanagement.co.uk